Innovative Biological anti-Fibrosis Drugs Developed in Chengdu Huitai Biomedicine Company appeared in the annual conference of the American Thoracic Society (ATS) in 2020
Time:2020-09-24

127
source:Huitai

The American Thoracic Society (ATS) is the world's most influential international professional academic conference in the field of respiratory medicine. It is scheduled to be held in May every year. Every year, more than 16000 respiratory medicine practitioners, scientists, clinical researchers, and other professionals from all over the world will participate in the conference to share and discuss the latest research progress in lung diseases and respiratory diseases critical care and sleep medicine, and so on. Many important international research results and findings are also released through the ATS annual meeting for the first time. This annual conference was held online due to the epidemic situation and lasted until October.
Following the 2018 AST annual conference, Chengdu Huitai was invited to participate in the 2020 ATS annual conference once again. Chengdu Huitai has been invited to attend ATS Annual Conference for two consecutive years. The brand-new drug targets, mechanisms, innovative peptide drug components, and preclinical research results of new drugs which were developed by Huitai have been highly concerned by the academic community, investment community, and international well-known pharmaceutical companies. Experts have also spoken highly of the accuracy of the project's animal model, the accuracy of the selection of detection index, and the development and application of innovative technology.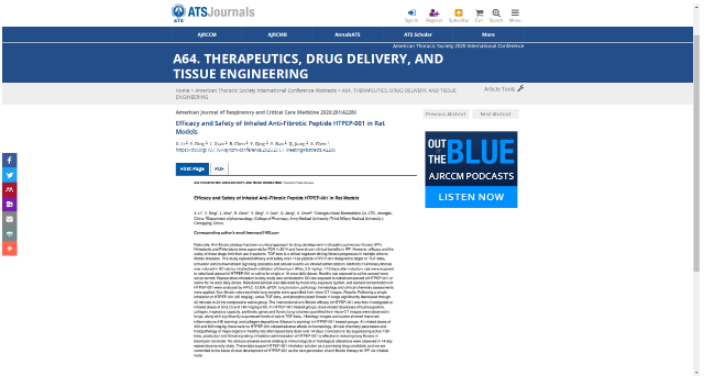 Title:
Efficacy and Safety of Inhaled Anti-Fibrotic Peptide HTPEP-001 in Rat Models.
American Journal of Respiratory and Critical Care Medicine 2020;201:A2286.
Number:
American Journal of Respiratory and Critical Care Medicine 2020;201:A2286.
Background:
Anti-fibrotic strategy has been a critical approach for drug development in idiopathic pulmonary fibrosis (IPF).Nintedanib and Pirfenidone were approved by FDA in 2014 and have shown clinical benefits in IPF. However, efficacy and the safety of these drugs limit their use in patients. TGF-β1 is a critical regulator driving fibrosis progresses in multiple chronic fibrotic diseases. This study explored efficacy and safety of an 11aa peptide HTPEP-001 designed to target on TGF-β1 activation and its downstream signaling cascades and cellular events via inhaled administration.
Method:
Pulmonary fibrosis was induced in SD rats by intratracheal instillation of bleomycin (Bleo, 2.6 mg/kg). 7-10 days after induction, rats were exposed to nebulized aerosol of HTPEP-001 or saline for single or once daily doses(10 days). Healthy rats exposed to saline aerosol were set as control. Repeat-dose inhalation toxicity study was conducted in SD rats exposed to nebulized aerosol of HTPEP-001 or saline for 14 once daily doses. Nebulized aerosol was delivered by head-only exposure system, and aerosol concentrations of HTPEP-001 were analyzed by HPLC, ELISA, qPCR, lung function, pathology, hematology and clinical chemistry assessments were applied. Non-fibrotic volumes/whole lung weights were quantified from micro-CT images.
Key Findings: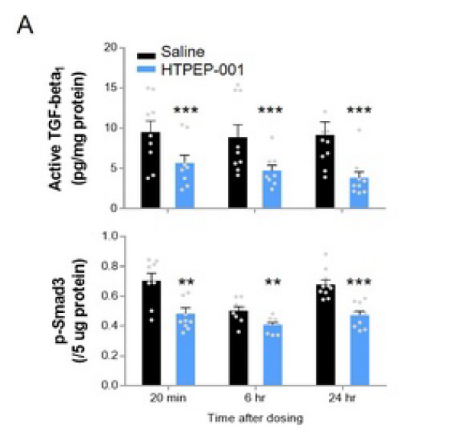 Fig A: After single inhalation of HTPEP-001 (85mcg/kg), compared with the normal saline group, activity TGF-β1 and phosphorylated Smads of the lung tissue in HTPEP-001 group decreased significantly in 20 minutes to 24 hours.

Fig D: After repeated inhalation of HTPEP-001 for 10 days, micro-CT three-dimensional reconstruction and quantitative analysis of lung were performed. LD: low dose; HD: high dose; Purple: fibrotic area.
About HTPEP-001:
HTPEP-001, a first-in-class peptide blocking the key pro-fibrotic TGF-β1 signaling by targeting TSP-1, is independently developed by Huitai.. The drug is a small molecule polypeptide, which can provide profound antifibrotic activity through upstream inhibition of TGF-β1 activation. The drug has passed the Pre-IND review without a face-to-face meeting. It represents high praise by the Center for Drug Evaluation (CDE), NMPA. Peptide has the advantages of high activity, easy chemical synthesis optimization, the safety of metabolites, and low immunogenicity. Based on the Huitai's leading peptides, various degrees of modification and optimization have been carried out to further improve its physical and chemical properties and biological activities, and a series of products have been obtained. The active ingredient, the preferred peptide compound is HTPEP-001, which is prepared by solid-phase synthesis. The pilot and scale-up batch production of peptide APIs have been completed, and the pilot production and quality research of freeze-dried powder preparations will continue to be developed in the future. For the inhalation powder (powder that needs to be dissolved for use) for nebulizers, the quality research work has been carried out in cooperation with Jiangsu Changfeng Pharmaceutical.
About Chengdu Huitai Biomedical Co., Ltd.
Huitai is an innovation-driven peptide drug development platform-based biopharmaceutical company, composed of senior scientists who have worked in well-known multinational pharmaceutical companies and local industrialists in the medical industry. It is committed to the discovery and development of the world's first innovative peptide drugs, as well as its global clinical research and commercialization. At present, the Huitai possesses dozens of effective ingredients such as peptides and their derivatives, which can be used in the R&D of various organ fibrosis diseases and solid tumors. We are determined to become an international leading peptide drug development platform enterprise. In addition to the intravenous drip and aerosol inhalation dosage forms for pulmonary fibrosis (PF-ILD) presented at the two annual meetings of the American Thoracic Society, the results of preclinical trials for non-small cell lung cancer have been presented at the annual conference of the American Society of Clinical Oncology (ASCO) in 2020.